Jakarta (Antara) – PLN Main Distribution Unit (UID) Jakarta Raya, together with students from SMKN 1 and SMKN 26 Jakarta, succeeded in converting two oil-fueled cars into electric cars in the program. electric vehicle conversion (Elvis) Step 2.
The two cars converted were the SMKN 1 Jakarta Students' Granmax minibuses and the SMKN 26 Jakarta Students' Jimny Katana. The Elvis event, which was held in conjunction with the 78th National Electricity Day, was also supported by the DKI Jakarta Provincial Education Office.
"We are very proud of the students of SMKN 1 and SMKN 26 Jakarta. We also thank PLN for supporting this transformation program. Purwosusilo, acting head of the DKI Jakarta Provincial Education Service, said at the confirmation in Jakarta on Tuesday. "We hope that the experience these vocational school students have will stand them in good stead in the future."
The capability of these cars is Grand Max conversion, covering a range of 160 km with an average speed of 60 kmph and a battery charging time of around 8 hours. The Jimny Katana Conversion, among other things, can cover a range of 180 km with an average speed of 60 kmph and the battery charging process takes about 8 to 9 hours.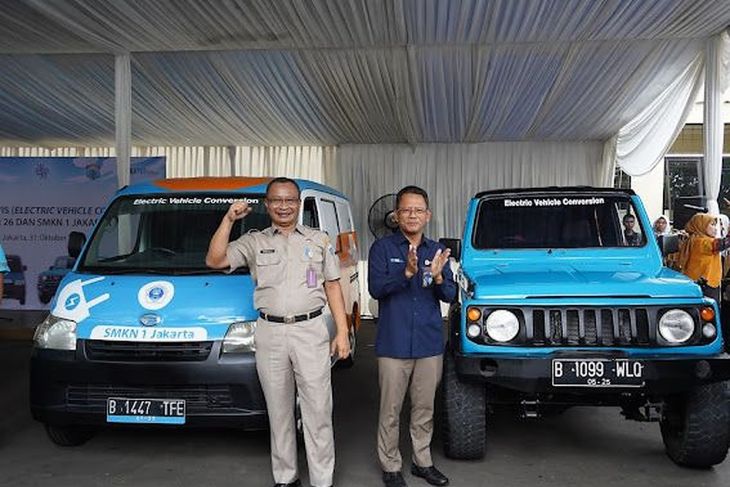 The high enthusiasm among students eventually made the electric vehicle conversion program an intracurricular subject.
M Bakri Akkas, head of the Alvis program and head of SMKN 26 Jakarta, said the conversion program for the two electric cars is going well.
"Thank God, the two cars converted by SMKN 1 and SMKN 26 Jakarta have been successfully converted within 3 months. "As vocational school students, the teachers who accompanied them and the principal, I have gained a lot of experience and "Lessons have been learned."
PLN UID Jakarta General Manager Rai Lasiran praised the students of SMKN 1 and SMKN 26 Jakarta who converted their oil-fueled vehicles to electric ones.
"This Elvis transformation program is a form of our support for the world of education and the environment. "Through this electric car conversion, we are supporting the government's program to realize a carbon emission-free Indonesia by 2060," Lasiran said.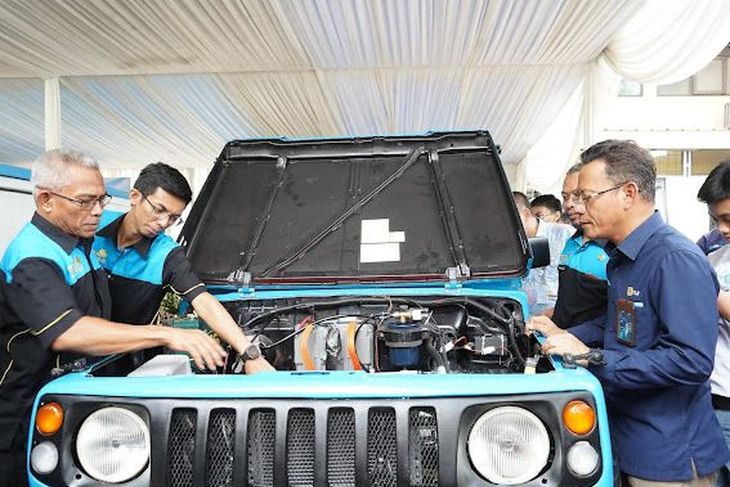 The PLN CARES program for SMKN 1 and SMKN 26 Jakarta is a form of PLN support in developing vocational education and accelerating the penetration of electric vehicles in Indonesia. This is in line with Presidential Decree No. 55 of 2019 concerning the acceleration of the battery-based electric vehicle program for road transportation.
The funding for each school is used for car conversion training, purchasing used cars and purchasing accessories, until they can eventually produce converted electric cars.
Also read: Vocational school students in Jakarta have succeeded in converting petrol vehicles into electric
Also read: 4040 units of electric conversion vehicles illuminated the 40th anniversary of Slank
Also read: PLN and electric motorbike conversion partners support net zero emissions by 2060
Reporter: Mecca Yumna Ning Prissy
Editor: Alviansyah Pasaribu
Copyright © Antara 2023